The Microservices Community is actively involved in the organisation of events around (but not solely dedicated to) Microservices.
We welcome inquiries from the organisers of activities compatible with the Community's goals and its code of conduct to get our support and collaborate in their organisation. We invite prospecting organisers to contact the Microservices Community Communication Group at the address communication@microservices.community.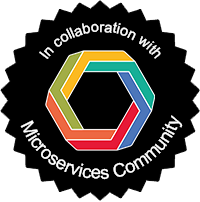 Microservices Community Collaboration Badge
Since June 2018, the activities and events organised in collaboration with the Microservices Community are recognisable from the Microservices Community Collaboration Badge (shown on the left) present in their website.